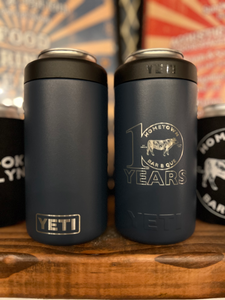 Celebrate 10 years of Hometown with this limited edition Yeti anniversary 16oz Colster Tall Can Cooler in Navy.
Craft brews stay cold to the last sip at breweries, beaches and BBQ's!
Yeti's Colster is the perfect fit for bigger cans (like craft beers), keeping the last sips as good as the first. The new Load-and-Lock Gasket requires an easy quarter-turn to secure your drink in place. The double-wall vacuum insulation is how your drink stays refreshingly crisp, so you can enjoy a cold craft brew even when the sun or fire is blazing.